October 20, 2016
3351 Views
At 4,095 (13,435ft) Mount Kinabalu is the tallest mountain in Borneo (20th tallest in the world) and to normal backpackers and travelers alike, takes around 2 days to summit and descend. After conquering the mountain, prepare to have your ego dented as you leave, with the world record times for ascent and descent proudly displayed at the exit – the current men's WR is 2 hours 30 mins, honestly when you're sweating at 10,000ft, on your second day, you will quite simply not believe that!
HOW MUCH DOES IT COST TO CLIMB MOUNT KINABALU?
Anyway, let's get down to business. The burning question. My answer is, as always, not as expensive as the internet suggests AS LONG AS you wait until you're in Borneo to book it. You can book the whole package which includes all the fees listed below to minimize hassle.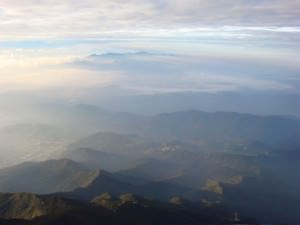 It cost me, after guide fees, dinner, accommodation, transport and food (in 2009) 400 Malaysian Ringgits which was about $130 USD. The fees have now gone up again, with rumours of further increases still. These fees are broken down as:
(These are all unavoidable)*
Park Entry – RM15 ($5 USD)
Climbing Fee – RM100 ($32 USD)
Insurance Fee – RM7 ($2 USD)
Guide Fee – RM100 ($32 USD), divided by the members of your group. Taking a guide is mandatory and unnecessary – a great combination.
Transport – approx RM12 ($4 USD)
Accommodation – approx RM335 ($110 USD), including dinner, breakfast and lunch
*if you're a crazy mountain climbing expert, you can rush up and down in one intense day with no need for accommodation, keeping the cost low but I couldn't dream of this!
So basically If you travel on a tight budget you can climb Mount Kinabalu for approximately RM500 ($160), not cheap but well worth the money.
NOTE: If you read it's cheaper than this, it's because the information is outdated! The prices more than doubled in 2009.
HOW DIFFICULT IS CLIMBING MOUNT KINABALU?
To be frank, it's no gentle stroll. You don't need any technical climbing skills
though! The failure rate is around 10% so make sure you don't fall into that category. If you're a young, active backpacker you won't need any real preparation as such but make sure you get a good nights sleep and eat well as you get ready to go. This will be one of the most grueling things you do on your travels, it's eminently doable but it's by no means easy. If you're out of shape, I'd recommend cracking out the walking shoes and do some brisk hiking a month or so before you ascend.
The total climb is only about 9km. The first day you climb from Timpohon gate (1600m) to Laban Rata (3272m) – it's about 6 horizontal kilometers but takes between 4-8 hours depending on your fitness (I took about 5 hours). You set off from Timphon between 8am-11am and arrive at Laban Rata anytime between lunch time and dinner time.
The next 'day' begins at 2am, an early wake up and you make the ascent in the dark. It gets tougher, steeper and the air is thinner so take it slowly. You should arrive at the Low's Peak, the summit, around 5-7am to watch one of the most amazing sunrises you'll ever see. It's freezing up there, so see the sunrise and make a beeline back to Laban Rata for breakfast around 8 or 9am. Finish brekky and head back down the mountain, you should arrive around lunch time.
WHEN IS BEST TO CLIMB MOUNT KINABALU?
Around April is optimum although all year round should be fine. That being said, December and November bring a lot of rain so try to avoid it around then if possible.
WHAT EQUIPMENT SHOULD I BRING?
I'm not a planner so I freestyled it in shorts, t-shirt and adidas trainers, as did my friend, although we got some strange looks from package tour groups of older American and Japanese tourists who were all kitted out like they were about to take on Everst (we paid about 10% of the price they paid so last laugh is all ours muhahahahaha). You can rent a walking pole (read – wooden stick) for RM5 and it's probably worth it. Bring some warm clothes for the summit morning though, it will reach freezing point so hat, gloves, fleece, long pants and walking shoes are a must (needless to say I had none of these and thought I was going to die of cold in trainers, shorts and a hoody!)
HOW IS THE FOOD & ACCOMMODATION ON THE MOUNTAIN?
Not too bad at all. The food is delicious, the 'restaurant' is cosy and has a great atmosphere – with your room booked the food is inclusive, if you want to have a beer ($10!) or anything similar be ready to pay premium for it! The beds are in a dormitory style, single, warm enough and besides, you wake up at 2am so it's not like you're there long anyway!
ANYTHING I SHOULDN'T DO?
Don't book a 3 Day, 2 Night tour – it's completely unnecessary. I would say book nothing until you arrive BUT if you feel the need to plan ahead (or if you're on a crazy time schedule like 3 days in Borneo or something mad like that) then only book a 2D,1N option. The additional day and night is a scam which forces you to stay in an average and overpriced guesthouse outside the grounds the night before you climb. Ridiculous considering you can get a bus from Kota Kinabalu city direct to the grounds (90km) for RM10 ($3USD), it takes about 90 minutes and is a beautiful ride.
http://onestep4ward.com/climbing-mount-kinabalu-in-borneo/